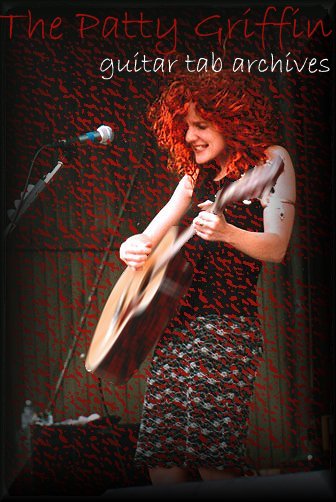 This page was last updated June 29, 2001..
Hey Everybody, welcome or welcome back! Its been awhile but I've finally gotten around to adding a few more tabs that people have sent (thanks to megan and carsie).
...also, please feel free to email me with corrections and additions to any tab, they are close but never perfect.
**special thanks to John (Patty's Keyboardist) for sending me the transcription for Big Daddy!**
(at least we know its right:)
This page was born August 5, 1998 and

people have joined you...

---

If you want to know when i update this site,
please follow this link...

click to subscribe to patty-tab-updates
---
I've compiled all these tabs by searching the web, tabbing them myself or pleading with people to send me them. i update this page as often as i get em, so keep checking back for new ones. good luck! :)
kate :)
---

---

---

Please email me any corrections, additions, etc...

---


*NEW*
For your convenience... if you don't know a chord, try this out.

Chord Form Generator
---

Please sign my guest book!!

---
---

This page is owned and maintained by Kate Peterson.
All graphics edited and/or distorted my me.
All rights reserved.
Logo picture originally taken be Kathy Wayt. ©1997
This page is best viewed with Internet Explorer 5.0+